Synopsis
Music performances 'In the Round' by Susan Greenbaum, Violet Delancey, Mary Bragg, and Belle of the Fall. A special night celebrating some of the industry's finest songwriting and music talent, a night not to be missed.
Susan Greenbaum - Susan has won several national songwriting awards, most recently the Smithsonian Songwriters Award and the Philadelphia Songwriters Project songwriting contest. She was also the Grand Prize overall winner of the Mid-Atlantic Song Contest and also the second-place overall winner in the same contest—the only time in the contest's three-decade history that the same artist had won multiple overall prizes. Several songs from Susan's "Wake Up!" CD were finalists in the John Lennon Songwriting Contest and the U.S.A. Songwriting Contest. Susan was voted "Best Singer and Songwriter" in Richmond, VA's 2011 and 2012 Style Weekly "Best Of" issues and was identified as one of 50 major players on the area's music scene by Richmond Magazine.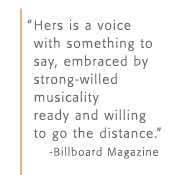 Susan won a national competition to be the opening act for recording star Jewel, chosen by industry professionals and over 100,000 online voters. Susan enjoyed overwhelming success on the tour across the Northeast, welcoming thousands of new fans. She and her band were also among select acts picked to perform at a recent Virginia Governor's Inaugural Concert.
Susan draws big, enthusiastic audiences who delight in her lively, diverse and powerful performances. Thanks to the internet, she has fans on every continent. She performs solo and with her band and has appeared at such venues as The Bottom Line in NYC, The Birchmere, Bethlehem Musikfest, Floyd Fest, and Rams Head Tavern. In addition to touring with Jewel, Susan's credits include performing an acoustic set with Dave Matthews Band violinist Boyd Tinsley; sharing bills with Jill Sobule; and opening for Kenny Loggins, Patty Griffin, Dar Williams, Janis Ian, Todd Snider, Jim Messina, Tuck and Patti, Iris DeMent, Lucy Kaplansky, Lloyd Cole and Catie Curtis. Susan also endorses W.L Gore's Elixir Strings. The most frequently heard comment at her gigs is, "Great songs--and how does all that big, beautiful sound come out of someone under five feet tall?" Find out at www.susangreenbaum.com.
Mary Bragg - Those blunt words from a Nashville music executive to wet-behind-the-ears singer-songwriter Mary Bragg years ago couldn't have stung more. But she took that blow-off advice into a journey that transformed the south Georgia native from pop-country wannabe into the striking, vulnerable voice she wears on her new album, Lucky Strike, drawing comparisons to Americana luminaries Patty Griffin and Shawn Colvin. With songs featured in Rolling Stone, USA Today, Bluegrass Situation, and No Depression, Bragg says, "I didn't know it at the time, but a little rejection was just what I needed."
Barely out of high school, Bragg spent six months in Nashville as a sprite, eager singer, chasing the dream like so many do. Sent on her way to the University of Georgia where she was classically trained in voice, she put Nashville behind her and focused on developing her craft on her own terms. After college, New York became her muse, her trouble, her chaperone. Several years into growing acclaim in Brooklyn's Americana scene, she attracted overflow crowds for a yearlong residency at New York City's famed venue The Living Room. She has been honored in the Hollywood Music in Media Awards, and the prestigious songwriting contests Telluride Troubadour, Kerrville New Folk, Falcon Ridge Folk Festival, Wildflower Festival, and the International Songwriting Competition.
Not ready to update your web experience? Send your ticket requests HERE
"To say that Belle of the Fall lead singer, Julia Autumn Ford possesses the voice of an angel is beyond obvious. Soft, tender and raw all at once; Julia's vocal delivery is light as a feather yet powerful enough to knock down an entire city block with one turn of a phrase. her partner in crime, bassist Tracy Walton rounds out Belle of the Fall's folky yet modern sound. You will want to take note of this performance as it's one of those "I saw them when they were still playing bars" moments." Block Island Music Fest
---
Violet Delancey grew up in Southern California, close to the clubs and recording studios where artists like Gram Parsons carved out their own brand of country music during the 1970s. Even so, it took a move to London — where Delancey studied Mythology as a graduate student, then switched gears by launching into a songwriting career — for her to fall head-over-heels in love with the music of her home country.
Maybe it was the distance from home that fired up her muse. Whatever the reason, Delancey began writing her own music during her time abroad, first as a California ex-pat living halfway across the world, and later as a new resident of Nashville, TN. She moved to Nashville in late 2013, drawn to the same city that had energized many of her favorite artists. She wanted to drink from the same well that had fueled her influences — to take the songs she'd written in an East London flat and perform them in the world capital of country music.